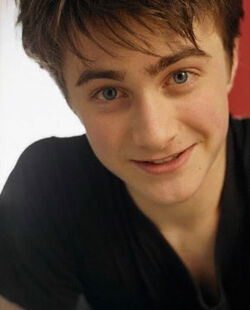 Daniel Radcliffe
Daniel Jacob Radcliffe[1][2] (born 23 July 1989)[3] is an English actor, best known for playing Harry Potter in the feature films and series based on the popular book series. Radcliffe has also made appearances in stage productions and a number of TV shows and films, including the ITV film My Boy Jack and the stage show Equus, for which he is nominated for a Drama Desk Award. He is worth roughly £20 million, mainly earned from the Harry Potter franchise.[4]
Harry Potter
Daniel was cast as Harry Potter by director, Chris Columbus in the film that hit theatres in November 16, 2001, Harry Potter and the Sorcerer's Stone (2001). He was recognized worldwide after this film was released. Pleasing audiences and critics everywhere, filming on its sequel, Harry Potter and the Chamber of Secrets (2002), commenced shortly afterwards. He appeared again as Harry in Harry Potter and the Prisoner of Azkaban (2004) directed by Alfonso Cuarón, and then appeared in Harry Potter and the Goblet of Fire (2005) directed by Mike Newell. Dan reprised his famous character for all seven installment of the Harry Potter films.
While working on the films, he also played Harry Potter in every season of the Harry Potter series (2001-2007).
In Harry Potter