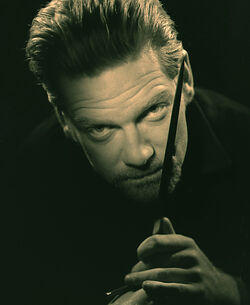 Kenneth Branagh
Edit
Kenneth Charles Branagh (born 10 December 1960) is an Academy Award-nominated actor and film director from Northern Ireland.
Branagh is probably best known for his film adaptations of William Shakespeare, beginning with Henry V (1989), followed by Much Ado About Nothing (1993), Hamlet (1996), Love's Labour's Lost (2000) and As You Like It (2006). As You Like It premiered in theatres in Europe, but was sent directly to television in the U.S., where it had its U.S. premiere on HBO in August 2007. Although Branagh played Iago in the 1995 film version of Othello, he did not direct the film; it was directed by Oliver Parker. Othello is the one Shakespeare film that Branagh has appeared in which was directed by someone else.
Notable non-Shakespeare films that Branagh has appeared in include Dead Again (1991) and Mary Shelley's Frankenstein (1994), both of which he also directed, Wild Wild West (1999), Harry Potter and the Chamber of Secrets (2002), Rabbit-Proof Fence (2002) and Valkyrie (2008). He also recently played the pompous government minister, Dormandy, in the film The Boat That Rocked (2009). The commercial failure of Love's Labour's Lost brought a temporary halt to his career as director, but Branagh has returned to directing again in recent years, most recently with the thriller Sleuth (2007). At a Film promotion for Valkyrie, Branagh confirmed he is directing a film based on Marvel superhero Thor. Branagh has narrated several audio books, such as The Magician's Nephew by C. S. Lewis.
Branagh has also been involved in several made-for-TV films. Among his most acclaimed portrayals is that of US President Franklin D. Roosevelt in the film Warm Springs (2005), for which he received an Emmy Award nomination. Though the film received 16 Emmy nominations, winning five (including Best Made-For-Television Film), Branagh did not win the award for his portrayal. He did though, receive an Emmy for his portryal of SS leader Reinhard Heydrich in the TV film Conspiracy (2001), a depiction of the Wannsee Conference, where Nazi officials decided on the Final Solution.
Branagh filmed three feature-length adaptations of Henning Mankell's best-selling Wallander crime novels for the BBC in mid-2008. Branagh plays the eponymous Inspector Kurt Wallander and also serves as the executive producer of the series. The three films were broadcast on BBC One in November and December 2008. Branagh won the award for best actor at the 35th Broadcasting Press Guild Television and Radio Awards (2009). It was his first major television award win in the UK. The highest accolade though was when he received his first BAFTA TV on 26th April 2009 for the British Academy Television Award for Best Drama Series . He is set to star as Matthew Shardlake in a BBC commissioned adaptation of C.J. Sansoms' Tudor crime novel 'Dissolution', which is in the final stages of negotiation.
In Harry Potter
Edit
Community content is available under
CC-BY-SA
unless otherwise noted.